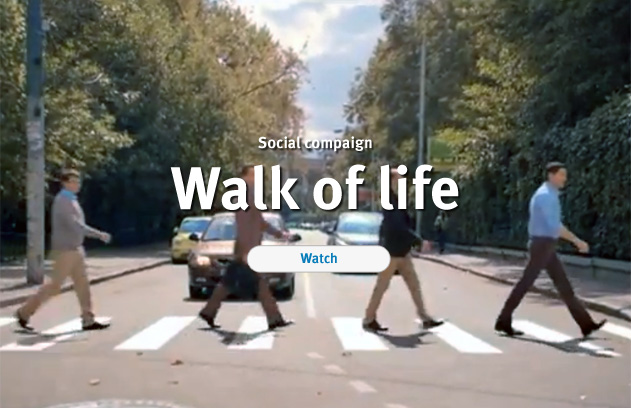 Campaign "Walk of life"
According to the statistics, the number of road accidents involving pedestrians is still at an inadmissibly high level. For nine months of 2012 there were 43 385 of such accidents, 5 323 people were killed and 40 412 injured. 11 258 accidents occurred on pedestrian crossings with 727 fatalities and 11 437 injured. Figures speak for themselves: unfortunately, up to date pedestrians remain one of the least protected groups of road users – they are involved in nearly one third of all road accidents.
The objective of the large-scale social campaign "Walk of life" is to convince pedestrians that it is vital to cross the roads only in permitted zones at crosswalks and that non-observance of the rules may entail severe consequences. The launch of the event was intentionally timed for the last quarter of the year because more than one third of yearly road accidents involving pedestrians occur during the period from October to December. The key element of this social event is the "Walk of life" video clip with Egor Beroev, a popular Russian cinema and theatre actor, as the protagonist. He creates an image of a disciplined pedestrian who is likely to be followed suit.
The clip is broadcasted on air of the federal TV channels, released in movie theatres, in the Internet and on street boards. 70 street banners with the outdoor ad "Walk of life" are placed in Moscow. During the campaign various educative and instructional family actions take place in 10 Russian cities including St. Petersburg, Kostroma, Yaroslavl, Nizhny Novgorod, Penza, Sochi, Stavropol, Belgorod, Kursk and Moscow. They comprise school lessons and promoting activities in big trade centers.
Opinions
Read more

Complexity of simple rules Egor Beroev, 25 October 2012

Stop at red light, go at green light. Cross the road at crosswalk. Don't run across the carriageway. To cross the road safely look to the left first, reaching the middle of the road look to the right. The rules are simple, one would think, and every schoolboy knows them. Then why are there so many victims among pedestrians? I ask myself this question many times for as an...
Read more

Foster the culture of road behaviour – the key objective... Natalia Agre, 25 October 2012

The «Road Safety Russia» public organization has many ambitious plans in the field of changing the culture of road behaviour on the roads of Russia. The culture of road behaviour clearly reflects the way of our life. And behavioral patterns in the society are vividly demonstrated in a culture of driving. The change of people's demeanour in everyday life can...