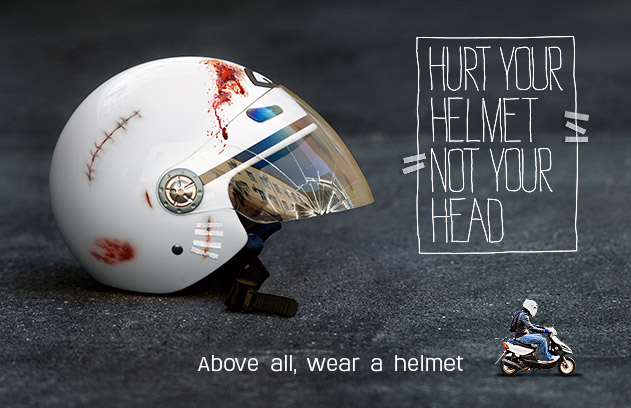 Campaign "Above all, wear a helmet!"
The General Department of Road Traffic Safety of the Ministry of Internal Affairs of Russian Federation and the NGO Road Safety Russia have announced the launch of their new nation-wide public awareness campaign, "Above all, wear a helmet!". The campaign aims to improve the safety of drivers and passengers of motorbikes and scooters and advocates the compulsory wearing of helmets for all journeys.

This campaign is coming at the height of the motorcycling season. According to statistics in the first five months of 2013 there were 1,944 motorcycle and scooter accidents in Russia, in which 253 people died and 2,184 were injured. One way to reduce the fatality rate among drivers and passengers of two-wheeled motor vehicles is to make the wearing of safety helmets compulsory. The use of safety helmets can reduce the risk of fatal injury in the event of a road traffic accident by 40% and the risk of serious injury by over 70%.

The "Above all, wear a helmet!" public information posters will appear throughout Russia. The organisers will prioritise universities and colleges, driving schools and motorbike and scooter clubs.

The campaign reiterates the need for a system of training for learner drivers and for the establishment of special driving schools to provide advanced driving skills courses for motorcyclists and scooter riders.
ORGANIZERS
| | |
| --- | --- |
| It is for 75 year running that the General Department of Road Traffic Safety of the Ministry of Internal Affairs of Russian Federation has been involved into serious activity to prevent motor vehicle accidents (MVA). There are numerous programs underway to decrease MVA statistics, to improve driver training and behavioral response for all road traffic participants. Conducting social campaigns aimed at teenagers and children the State Traffic Police is investing into the safe driving in the future. | Non-governmental organisation "Road Safety Russia"unites all who is not willing to stay passive on the issue of extremely high risk associated with driving Russian roads. We unite those who values their lives and who cares about the lives of their close relatives. Those whose potential loss will be always remembered. We stay united to decrease the deadly toll in our roads. We want people to follow the road traffic rules because their children are following their role models. We advocate the polite conduct as living a life charged with positive emotions is great fun. We want you to drive safely! |