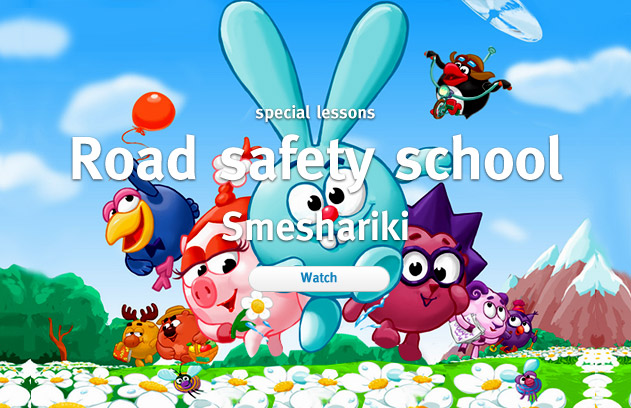 Opinions
Read more

Children death in accidents – adults fault Vechernyaa Moskva, 13 September 2011

Since the beginning of the year there have been 6101 accidents on Russian roads. Of those who were inside of cars 140 children died, 2348 were injured. This is the fault of adults, which didn't care of their childrens' safety and didn't fasten them in cars.
Campaign "Road Safety School / Smeshariki"
In autumn 2010 a special lessons have been held in the Russian schools. The program has been animated with the cartoons characters and devoted to the main rules of road safety traffic in a fun and easy for kids' understanding manner.
The campaign have been known as the part of school education program. More than 50 Russian regions was satisfied with the quality of POS and about 130 messages have been announced in the mass media.
The campaign involved the following channels: outdoors, TVC and events.
ORGANIZERS
| | | |
| --- | --- | --- |
| It is for 75 year running that the State Traffic Police of the Ministry of Interior of Russia has been involved into serious activity to prevent motor vehicle accidents (MVA). There are numerous programs underway to decrease MVA statistics, to improve driver training and behavioral response for all road traffic participants. Conducting social campaigns aimed at teenagers and children the State Traffic Police is investing into the safe driving in the future. | The Russian Association of Motor Insurers (RAMI) is a non-government organization involved in obligatory insuring liability of the owners of motor vehicles. RCIU was founded August 8, 2002 by the 48 largest insuring companies in Russia; the union was officially registered dated October 14, 2002; in fact the union is the first professional union on the insurance market having the status confirmed by the effective Russian legislation. RCIU is permanently involved in initiating campaigns to improve the road traffic situation actively promoting the importance of increasing the safety status of not only drivers but passengers as well. | Non-governmental organisation "Road Safety Russia"unites all who is not willing to stay passive on the issue of extremely high risk associated with driving Russian roads. We unite those who values their lives and who cares about the lives of their close relatives. Those whose potential loss will be always remembered. We stay united to decrease the deadly toll in our roads. We want people to follow the road traffic rules because their children are following their role models. We advocate the polite conduct as living a life charged with positive emotions is great fun. We want you to drive safely! |