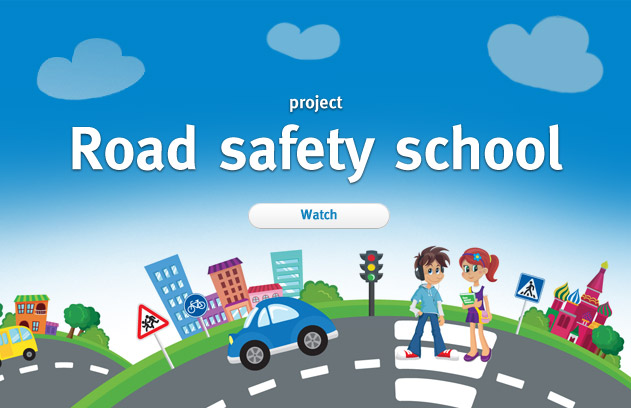 Campaign "Road Safety School"
In summer 2010 a special bus-simulator began its trip to the child recreation sites – in this way a start of a new educational program for teenagers on safe road behaviour was given.
Solution
The passenger compartment of the bus is fitted with visual aids and equipment for viewing topical educative videos and cartoons. The functioning of a safety belt in case of an accident or at strong braking can be demonstrated with the help of a special device. A smoke generator to imitate smoke blanketing of the passenger compartment and a dummy to acquire the skills of safe escape are also installed. Children are trained how to behave properly in dangerous road situations and avoid injuries.
The bus-simulator is only one in a series of actions which really provided continuous decline in road fatalities among children in seven months of 2010.
The bus-simulator was manufactured by the HYUNDAI Company under the project of ZAVOD Consulting agency.
Opinions
Read more

State traffic police social ad was not taken "on the air"... "Gazeta.spb" Internet edition, 23 October 2011

Directors of traffic police of St. Petersburg desided to combat with traffic offenders using very frightful and obvious agitation. Policemen created some videos which were really brutal. It is uncertain is it possible to show such videos on TV or not. Publication date: 18.03.2009
Read more

What is free that is dangerous "Rossiyskaya gazeta" edition. Chapter "Auto", 23 October 2011

Social videos about road safety frightened the TV channels. Videos which were the winners of international festivals, Grand prize holders on the Paris TV ads festival didn't appeared on Russian television. The directors of our mass media considered that social ad videos about road safety too brutal. Author: Vladimir Barshev Publication date: 23.03.2009
ORGANIZERS
| | | |
| --- | --- | --- |
| It is for 75 year running that the State Traffic Police of the Ministry of Interior of Russia has been involved into serious activity to prevent motor vehicle accidents (MVA). There are numerous programs underway to decrease MVA statistics, to improve driver training and behavioral response for all road traffic participants. Conducting social campaigns aimed at teenagers and children the State Traffic Police is investing into the safe driving in the future. | The Russian Association of Motor Insurers (RAMI) is a non-government organization involved in obligatory insuring liability of the owners of motor vehicles. RCIU was founded August 8, 2002 by the 48 largest insuring companies in Russia; the union was officially registered dated October 14, 2002; in fact the union is the first professional union on the insurance market having the status confirmed by the effective Russian legislation. RCIU is permanently involved in initiating campaigns to improve the road traffic situation actively promoting the importance of increasing the safety status of not only drivers but passengers as well. | Non-governmental organisation "Road Safety Russia"unites all who is not willing to stay passive on the issue of extremely high risk associated with driving Russian roads. We unite those who values their lives and who cares about the lives of their close relatives. Those whose potential loss will be always remembered. We stay united to decrease the deadly toll in our roads. We want people to follow the road traffic rules because their children are following their role models. We advocate the polite conduct as living a life charged with positive emotions is great fun. We want you to drive safely! |