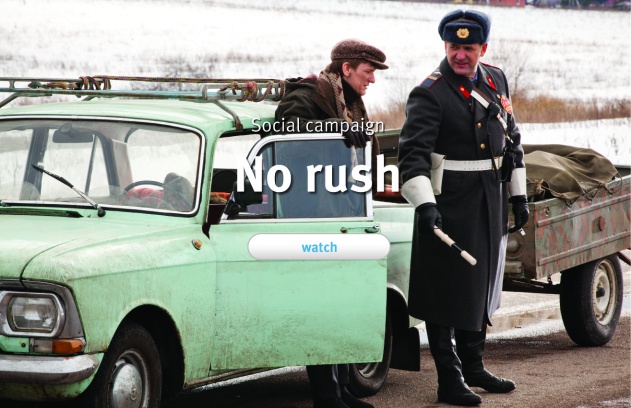 All publications
News
Read more

"Improving Efficiency of Social Advertising in Russia" inter...11 December 2012

The day before, on 10 December 2012 Mrs. Natalia Agre, president of the "Road Safety Russia" non-governmental organization, took part in the "Efficiency of social advertising against alcoholism and smoking" round table discussion in Civic Chamber of the Russian Federation and spoke on the issue "Drunk driving accidents growth: roots and ways of solution". She cited the statistics, highlighted the contribution of social campaigns in tackling the world crisis of drunk driving, touched upon good practices in...
Campaign "No Rush"
Issue
Recently exceeding the speed-limits and discrepancy with the specific road conditions have become one of the main reasons for road accident and as a result annually thousands of people die and sustain injuries. According to the statistics nearly a third of all accidents happen due to the exceeding speed-limits and non-compliance of a speed mode. Thus with the speed increasing road accidents consequences grows in a geometrical progression.
Solution
We have realized that the old Russian problem – «Russians like to drive fast» – should be solved in different way. Then we decided to cooperate with the famous Russian moviemakers and together produced the movie-almanac consisted of five parts, telling people about safe speed life advantages. The movie-almanac represents five short stories – leisurely stories about the meaningless and even death danger of the speed-limits exceeding, advantages of life on the safe speed. Each short story is an independent film, with it's unique style and film language. Feodor Bondarchuk, Peter Buslov, Vladimir Kott, Alexander Lungin, Sergey Osipyan, Boris Hlebnikov became directors of the film almanac 'No Rush'.
Results
Mass media and art workers have started talking about this problem. After the launch of the campaign there were made more than 700 publications, the project received an extended coverage in social networks (Twitter, Vkontakte, Facebook, Livejournal). And nearly 60 % of the population noted that the subject of a correct speed choice and the speed mode compliance is broadly covered in the mass media, and nearly 40 % of Russians have changed their attitude to the compliance of a speed mode and corrected the choice of speed to the proper one.
Посетить сайт проекта
Opinions
Read more

Do mention the speedometer Natalia Agre, 06 April 2012

Speed – is the main reason of all troubles on the roads. Excess of the speed limits or incorrect speed choice is a particular type of driver's offences. For ordinary drivers such things as "hanging outs" on the roads, driving on the oncoming traffic side, moving on the red light – are unacceptable and forbidden. Such driving is very dangerous and can lead to...
ORGANIZERS
| | | |
| --- | --- | --- |
| It is for 75 year running that the State Traffic Police of the Ministry of Interior of Russia has been involved into serious activity to prevent motor vehicle accidents (MVA). There are numerous programs underway to decrease MVA statistics, to improve driver training and behavioral response for all road traffic participants. Conducting social campaigns aimed at teenagers and children the State Traffic Police is investing into the safe driving in the future. | The Russian Association of Motor Insurers (RAMI) is a non-government organization involved in obligatory insuring liability of the owners of motor vehicles. RCIU was founded August 8, 2002 by the 48 largest insuring companies in Russia; the union was officially registered dated October 14, 2002; in fact the union is the first professional union on the insurance market having the status confirmed by the effective Russian legislation. RCIU is permanently involved in initiating campaigns to improve the road traffic situation actively promoting the importance of increasing the safety status of not only drivers but passengers as well. | We unite all who is not willing to stay passive on the issue of extremely high risk associated with driving Russian roads. We unite those who values their lives and who cares about the lives of their close relatives. Those whose potential loss will be always remembered. We stay united to decrease the deadly toll in our roads. We want people to follow the road traffic rules because their children are following their role models. We advocate the polite conduct as living a life charged with positive emotions is great fun. Do you want to drive safely? Join us and invite your friends. |