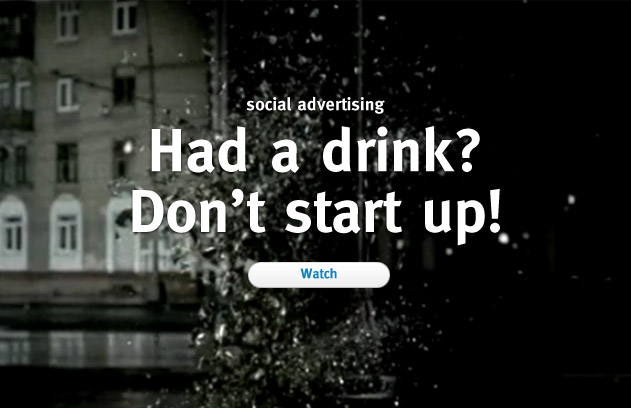 All publications
News
Read more

Amendments to the Russian Code of Administrative Offences Ta...01 September 2013

Federal Law No. 196-FZ of 23 July 2013 came into effect on 1 September 2013. The law introduces amendments to the Code of the Russian Federation on Administrative Offences and also to Article 28 of the Federal Law on Road Traffic Safety. The new law increases the minimum fine for road traffic offences to 500 rubles (about 15 US dollars). It also introduces tougher penalties for repeated violation of certain traffic regulations, notably, for speeding and for failing to stop at a red light. As leading causes of fatal road accidents, these are...
Read more

Prohibition operates in the car08 February 2013

On 7 February the State Duma held a meeting of the Expert Council automotive community for public associations and religious organizations where NGO "Road Safety Russia", Non-Commercial partnership "Guild of driving schools," Non-Commercial partnership "Autolady", Interregional Trade Union "Taxi Driver," Center of expertise "Probok.net" and other organizations and associations were involved. During the discussion, the participants shared their views and suggestions on the situation on the Russian roads. In particular, Vadim Melnikov, General...
Campaign "Had a drink? Don't start up!"
From Novemder 2009 to January 2010 State Automobile Inspection of the Russian MIA, "Zavod consulting" agency with the support of the Russian Union of Insurers have run the social campaign "Had a drink? Don't start up!" aimed to decreasing of number of accidents involving drunk drivers.
Objective
To raise social awareness of the drunk driving problem in Russia.
Solution
Each focus group received its own unique message. A 12-meter (40-foot) bottle filled with crashed cars from real road accidents grabbed the attention of the leading mass media covering the First Global Ministerial Conference on Road Safety. Then it was relocated to a busy highway. Drivers were cautioned by outdoor advertisements and by popular radio station reels. Families watched reels on TV and in cinemas. Drivers read graffiti on the gates of their garages. Web surfers visited the site and discussed the project in social media.
Results
The awareness campaign was covered by the leading mass media, got more than 74 million contacts with the audience and was widely discussed. Millions of drivers in Russia got a warning from the installation, which was also noted by the officials responsible for global road safety. The number of people killed because of drunk drivers fell by 28% in December 2009 and by 48% in January 2010 compared with the same periods of the previous years.
Opinions
Read more

Drunk for three times - without a car "Rossiyskaya gazeta" edition. Chapter "Auto", 23 October 2011

I propose at the first time disentitle driver for 3 years with the possibility to decrease this period. Second time - fine and 10 years of disentitlement. We also have to settle maximum alcohol level in blood. According to this index different drivers have to be fined in a different manner. Author: Vladimir Barshev Publication date: 01.09.2011
Read more

Road and drinking are incompatible State traffic police official web site, 05 October 2011

Near 750 people died on Russian roads during the last six months because of drunk drivers. According to statistics about 4519 accidents due to this reason happened in Russia during this period. It is 9,3% less that last year. In these accidents 743 people died, 6600 were injured. Publication date: 05.08.2011
AVATARS
---
BANNERS
---
SCREENSAVERS & WALLPAPERS
---
DIPLOMA & STICKER
---
ORGANIZERS
| | | |
| --- | --- | --- |
| It is for 75 year running that the State Traffic Police of the Ministry of Interior of Russia has been involved into serious activity to prevent motor vehicle accidents (MVA). There are numerous programs underway to decrease MVA statistics, to improve driver training and behavioral response for all road traffic participants. Conducting social campaigns aimed at teenagers and children the State Traffic Police is investing into the safe driving in the future. | The Russian Car Insurer Union (RCIU) is a non-government organization involved in obligatory insuring liability of the owners of motor vehicles. RCIU was founded August 8, 2002 by the 48 largest insuring companies in Russia; the union was officially registered dated October 14, 2002; in fact the union is the first professional union on the insurance market having the status confirmed by the effective Russian legislation. RCIU is permanently involved in initiating campaigns to improve the road traffic situation actively promoting the importance of increasing the safety status of not only drivers but passengers as well. | Non-governmental organisation "Road Safety Russia"unites all who is not willing to stay passive on the issue of extremely high risk associated with driving Russian roads. We unite those who values their lives and who cares about the lives of their close relatives. Those whose potential loss will be always remembered. We stay united to decrease the deadly toll in our roads. We want people to follow the road traffic rules because their children are following their role models. We advocate the polite conduct as living a life charged with positive emotions is great fun. We want you to drive safely! |