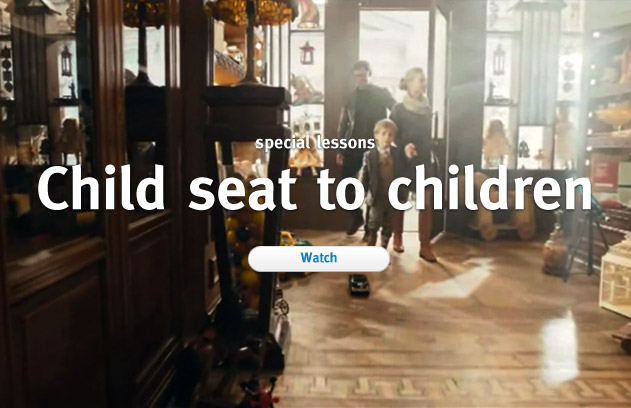 Opinions
Read more

Car seat for child: theory Zdorovaya Rossiya, 10 November 2011

Even his first adventure - home from maternity hospital - the child must make being in the car seat. This is road safety rule established in our country. Though fine for holding the child on hands is very low we should remember that road safety rules of every country are written with blood. Including the blood of the smallest traffic partisipants. Publication date:...
Read more

Car seat for child safety Krokha.ru, 23 October 2011

Nowadays children start travellling in cars from the first weeks of life. For child safety during this trips it is necessary to buy a car seat. How to make the right choise taking into accout child's weight and age? Choose by weight There is no necessity to persuade modern parents in the fact that car seat is vital for child since his birthday and until 12 years. This clause...
Campaign "Car Seats for Children"
Children are the least protected participants of road traffic. If anything happens to them this is the fault of adults.
Children are one of the most vulnerable categories of passengers. In similar MVA children suffer more than adult passengers. It is known that the existing safety systems deployed inside cars are not designed to operate to protect children. Therefore, it is required to use Children Restraining Means (CRM) when children are carried out inside cars; the most reliable CRM is a child seat. Starting with 2007 it was put into the Russian Traffic Rules that the use of CRM was mandatory for children under 12. In case CRM is not used a police officer can issue a fine in amount of 500 rubles.
Issue
According to polls as many as 51% of parents of children under 12 have children seats but only 23% of them are using the seats on a regular basis.
Solution
The parents who do not use child seats in cars are reckless and irresponsible. Nowadays, children begin to travel by car from the very first weeks of life. For the safety of the child by the time of such road trips need to buy a car seat. How, given the weight and age of the child, make the right choice? The child seat is more important than all toys. Even the first ride in a child's life – from the maternity house – should be made inside the child seat. Children should always ride cars sitting in these seats in taxi, in a friends' car, during tourist trips. If there is no seat – there is no ride.
Competition
Audio
/u/campaigns/2011/10/audio/__bezdtpru_30_1_new.mp3

How much does the child safety in car cost?

You can hear this audio clip on the Vesti FM radio station.

/u/campaigns/2011/10/audio/__bezdtpru_30_3.mp3

What is more important than any toys?

You can hear this audio clip on the Autoradio radio station.

/u/campaigns/2011/10/audio/krovatka.mp3

Bed, baby carriage, car seat!

You can hear this audio clip on the Autoradio radio station.
Avatars


Organizers
| | | |
| --- | --- | --- |
| It is for 75 year running that the General Department of Road Traffic Safety of the Ministry of Internal Affairs of Russian Federation has been involved into serious activity to prevent motor vehicle accidents (MVA). There are numerous programs underway to decrease MVA statistics, to improve driver training and behavioral response for all road traffic participants. Conducting social campaigns aimed at teenagers and children the State Traffic Police is investing into the safe driving in the future. | The Russian Association of Motor Insurers (RAMI) is a non-government organization involved in obligatory insuring liability of the owners of motor vehicles. RCIU was founded August 8, 2002 by the 48 largest insuring companies in Russia; the union was officially registered dated October 14, 2002; in fact the union is the first professional union on the insurance market having the status confirmed by the effective Russian legislation. RCIU is permanently involved in initiating campaigns to improve the road traffic situation actively promoting the importance of increasing the safety status of not only drivers but passengers as well. | We unite all who is not willing to stay passive on the issue of extremely high risk associated with driving Russian roads. We unite those who values their lives and who cares about the lives of their close relatives. Those whose potential loss will be always remembered. We stay united to decrease the deadly toll in our roads. We want people to follow the road traffic rules because their children are following their role models. We advocate the polite conduct as living a life charged with positive emotions is great fun. Do you want to drive safely? Join us and invite your friends. |

Partners
Autoradio radio-station was fonded back in May 1993. Over the 17 years of its history Autoradio radio-station has become a leader in the Moscow FM-band; its regional network is among 3 largest in the country, it broadcasts in 300+ cities in Russia.

Autoradio is far ahead among competition in Russia among the motorist audience, meeting expectations set forth to the first Russian car radio.

The bulk of the news flow of the radio-station "Vesti FM» consists of the exclusive information provided by the global network of RTR correspondents and own "Vesti FM" radio journalists.

News programs are broadcast in special format: together with colleagues in the studio the anchor discusses and analyzes the latest news on economy, political and sport life in Russia and in the world.

The TV channel "Auto Plus" broadcasts unique own programs on cars, motor sports and recreation activities.

This involves setting speed records on asphalt road cover and testing engines in impenetrable swamps and deserts, fierce debates on the car future, novelties in the car market and developments in the major racing series. Plus the best foreign programs dealing with motor sports.