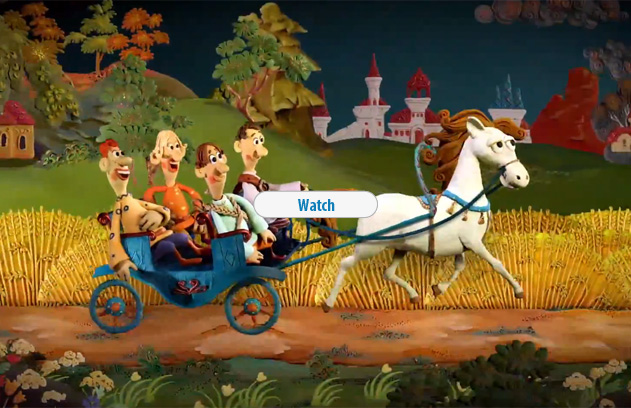 Campaign "Buckle up!"
According to research conducted by the General Department of Road Traffic Safety of the Ministry of Internal Affairs of Russian Federation, only half of the Russian population always use their seat belt. For back seat passengers, the figure is considerably lower, at just over 10%.
The campaign objective is to explain to the entire population of Russia that wearing a seat belt is essential to protect one's own life and the lives of one's nearest and dearest.
The main campaign image is a matryoshka doll wearing a seat belt. The matryoshka is a symbol that transcends the very diverse traditions and cultures in the world's largest country, just as roads connect people, cities, towns and villages, unifying Russia economically and socially.
Opinions
Read more

The Matryoshka will symbolise safety on russian roads Road Safety Russia, 17 April 2013

The State Automobile Inspectorate announces a new nationwide public awareness campaign, "Buckle Up!". The campaign, which will last until July, is being run in partnership with the Russian Association of Motor Insurers and the NGO Road Safety Russia. Surveys of more than 50,000 people have revealed that only half of the Russian population always use a seat belt....
Read more

Personal responsibility could be the main guarantee of Road... Road Safety Russia, 12 April 2013

Under the Russian Federation's Traffic Regulations, the use of seat belts is mandatory for drivers and all passengers, including rear seat passengers. However, while front seat occupants have indeed started to buckle up, rear seat passengers seldom use their seat belts. To identify the reasons for this, the Road Traffic Safety Department of the Russian Ministry of...
Read more

Life and death on the world's most dangerous roads The Guardian, 18 March 2013

More than 1.2 million people are killed on the road every year – and more than 20 million are injured, according to a World Health Organisation report published on Thursday. This makes road accidents the eighth leading cause of death globally – comparable in impact to communicable diseases such as malaria – and the WHO estimates it could rise to fifth in...
Altai Krai

Altai Krai

Author: Folk artist, member of not-for-profit partnership, the Union of Craftspeople, winner of 'Best Craftsperson of Siberia, painting' category at the 2011 International Festival of Craftspeople in Novosibirsk, holder of honorary title 'Folk Art Master of Altai Krai' Tamara Yefimovna Nagovitsyna

Amur Oblast

Amur Oblast

Author: Designer Irina Litus

Arkhangelsk Oblast

Arkhangelsk Oblast

Author: Distinguished Artist of Russia Sergey Nikandrovich Syukhin

Astrakhan Oblast

Astrakhan Oblast

Author: Student at the Architecture and Design Faculty, Astrakhan State University D. R. Ishmametova

Belgorod Oblast

Belgorod Oblast

Author: Interior designer, director of interior design studio, Masterskaya Dekora Tatyana Karpenko

Bryansk Oblast

Bryansk Oblast

Author: Olga Medvedeva

Vladimir Oblast

Vladimir Oblast

Author: Assistant lecturer at the Department of Design and Technical Drawing, Institute of the Arts and Art Education Natalya Andreevna Varlamova

Volgograd Oblast

Volgograd Oblast

Author: Member of the Russian Union of Artists, Professor of the Department of Drawing and Painting, Volgograd State Socio-Pedagogical University, designer of over 250 emblems for the municipalities of Volgograd Oblast, honorary citizen of Volgograd Oblast, winner of the Volograd Oblast State Prize Vladislav Eduardovich Koval

Vologda Oblast

Vologda Oblast

Author: Expert in apprentice training at the Vologda Oblast Gubernatorial College of Arts and Crafts Lyubov Alexeevna Korchagova

Voronezh Oblast

Voronezh Oblast

Author: Designer at Voronezh Oblast independent regional news agency, RIA Voronezh Anna Valeryevna Lykova

Children's matryoshka

Children's matryoshka

Авторы: Children

Jewish Autonomous Oblast

Jewish Autonomous Oblast

Author: Designer at radio stations, FM Birobidzhan and Petro FM Birobidzhan Xenia Igorevna Pismenova

Zabaykalsky Krai

Zabaykalsky Krai

Author: Angelika Valeryevna Chernigina

Ivanovo Oblast

Ivanovo Oblast

Author: Advertising agency designer Svetlana Kutanova

Irkutsk Oblast

Kabardino-Balkar Republic

Kabardino-Balkar Republic

Author: Graphic designer Vano Georgevich Chikhradze under the supervision of Chair of the Kabardino-Balkar Republic Union of Artists Gennadiy Zhanovich Temirkanov

Kaliningrad Oblast

Kaliningrad Oblast

Authors: Tatyana Alexeevna Kolodyazhnaya, Yelena Mikhailovna Boyarinova

Kaluga Oblast

Kaluga Oblast

Author: Professional graphic artist and graphic designer, member of the Russian Union of Artists and the Russian Union of Designers, Art Director at advertising agency, Aktsent Anton Mikhailovich Lyapichev

Kamchatka Krai

Kamchatka Krai

Author: Artist at the Children's Activity Centre in Kamchatka Krai Albina Anatolyevna Kosygina

Karachay-Cherkess Republic

Karachay-Cherkess Republic

Author: Yulia Eskindarova

Kemerovo Oblast

Kemerovo Oblast

Author: Master Flag (limited company) Raisa Vyacheslavovna Doroshenko Deputy Director at the Department of the State Automobile Inspectorate for Kemerovo Oblast Vadim Anatolyevich Kutonov

Kirov Oblast

Kirov Oblast

Author: Designer at advertising agency, Design Express Olga Viktorovna Staroverova

Kostroma Oblast

Kostroma Oblast

Author: Supervisor at the Organisation, Analysis and Road Safety Promotion Unit at the Department of the State Automobile Inspectorate for Kostroma Oblast, senior police lieutenant Anastasia Sergeevna Denisova

Krasnodar Krai

Krasnodar Krai

Author: Qualified graphic designer Alexander Viktorovich Bibik

Krasnoyarsk Krai

Krasnoyarsk Krai

Author: Vladimir Kruglov

Kurgan Oblast

Kurgan Oblast

Author: Marina Gennadyevna Syrykh

Kursk Oblast

Kursk Oblast

Author: Student at Kursk State University Faculty of Graphic Art Anna Kipot

Lipetsk Oblast

Lipetsk Oblast

Authors: Mikhail Bolotov, Vladimir Parakhin

Magadan Oblast

Magadan Oblast

Author: Set designer at Magadan Oblast Puppet Theatre Roman Kinbaevich Khayrudinov

Moscow and Moscow Oblast

Moscow and Moscow Oblast

Author: Artist and tutor at the Sergey Andriyaka Watercolour School Yekaterina Mironovna Lukyanova

Murmansk Oblast

Murmansk Oblast

Author: YarmOrka creative team Veronika Vologzhannikova and Mariya Mikhailenko

Nenets Autonomous Okrug

Nenets Autonomous Okrug

Author: Educational specialist in complementary education, Naryan-Mar, Nenets Autonomous Okrug Irina Andreevna Kostina

Nizhny Novgorod Oblast

Nizhny Novgorod Oblast

Author: Member of the Council of Artists of Russia, Diploma from the Russian Academy of Art, artist at the creative lab, Order of the Badge of Honour, Khokhloma Painting Nelly Viktorovna Ushakova

Novgorod Oblast

Novgorod Oblast

Author: Distinguished Artist of Russia, Corresponding Member of Peter's Academy of Sciences and the Arts Alexander Alexeevich Varentsov Artist and art historian Svetlana Viktorovna Akifyeva

Novosibirsk Oblast

Novosibirsk Oblast

Author: Novosibirsk State University Yulia Pravdova

Omsk Oblast

Omsk Oblast

Author: Anton Yevgenyevich Bondarenko

Orenburg Oblast

Orenburg Oblast

Author: Yevgeniy Yerokhin

Oryol Oblast

Oryol Oblast

Author: Computer graphics tutor at Oryol Art College Svetlana Kutanova

Penza Oblast

Penza Oblast

Author: Mikhail Igorevich Melnikov

Perm Krai

Perm Krai

Author: Lyubov Gennadyevna Ustkachkintseva

Primorsky Krai

Primorsky Krai

Author: Yelena Lazareva

Pskov Oblast

Pskov Oblast

Author: Artist and designer at advertising agency, Planer Yuriy Valyaev

Republic of Adygea

Republic of Adygea

Author: Alina Yuryevna Suprunova

Altai Republic

Altai Republic

Author: Distinguished Artist of the Russian Federation, member of the Russian Union of Artists Sergey Vladimirovich Dykov

Republic of Bashkortostan

Republic of Bashkortostan

Author: Senior supervisor at the PR department of the State Automobile Inspectorate in the Republic of Bashkortostan, police captain Dzhamil Khabibullovich Akhmetgaliev

Republic of Buryatia

Republic of Buryatia

Author: Student at the Republic of Buryatia Pedagogical College Sofya Bazarova

Republic of Dagestan

Republic of Dagestan

Author: Graduate of the Dagestan Institute of Decorative Arts, Design and Architecture Nazir Agabegovich Shikhmagomedov

Republic of Ingushetia

Republic of Ingushetia

Author: Executive at Vertil advertising agency Zurab Nakastoev

Republic of Kalmykia

Republic of Kalmykia

Author: Republic of Kalmykia branch of the All-Russia Society of Motorists

Republic of Karelia

Republic of Karelia

Author: Member of the Karelia Association of Artists Yekaterina Romanova

Komi Republic

Komi Republic

Authors: Second year students at the Faculty of Arts, Syktyvkar State University Yulia Smirnova Viktoria Vishnevskaya Lyudmila Kisileva

Mari El Republic

Mari El Republic

Author: Artist at the municipal Children's and Young People's Activity Centre Svetlana Alexandrovna Tupitsyna Visualiser Petr Vasilyevich Tupitsyn

Republic of Mordovia

Republic of Mordovia

Author: Designer, MART advertising agency Lyudmila Ivanovna Bolshakova

Sakha (Yakutia) Republic

Sakha (Yakutia) Republic

Author: Twice graffiti champion of Sakha (Yakutia) Republic Nikolai Stepanovich Grigoryev

Republic of North Ossetia-Alania

Republic of North Ossetia-Alania

Author: Designer at digital agency, Zebra Natalya Ruslanovna Gasieva

Republic of Tatarstan

Tuva Republic

Tuva Republic

Author: Alexander Sergeevich Dupchur

Republic of Khakassia

Republic of Khakassia

Author: Student at N. F. Katanov Khakass State University, specialising in journalism Yelena Alexeevna Kremis

Rostov Oblast

Rostov Oblast

Author: Deputy Director for Mentoring, teacher at School No. 21, Salsk, Rostov Oblast Olga Vladimirovna Derkunskaya

Ryazan Oblast

Ryazan Oblast

Author: Graphic designer Daniil Konstantinovich Kornilov

Samara Oblast

Samara Oblast

Author: Advertising agency, Absolut Igor Yevgenyevich Shestakov

St Petersburg and Leningrad Oblast

St Petersburg and Leningrad Oblast

Author: State Automobile Inspectorate Vladimir Tolstikov

Saratov Oblast

Saratov Oblast

Author: Olesya Sorokina

Sakhalin Oblast

Sakhalin Oblast

Author: Natalya Sergeevna Kiryukhina

Sverdlovsk Oblast

Sverdlovsk Oblast

Authors: Designer Yaroslav Druzhinin Supervisor Mariya Kvetnaya

Smolensk Oblast

Smolensk Oblast

Author: Fourth year student at the Art and Graphic Design Faculty of Smolensk State University Maxim Gennadyevich Chistov

Stavropol Krai

Stavropol Krai

Authors: Natalya Nikolaevna Tunnikova, Anna Alexandrovna Zalutskaya, Yelena Sergeevna Mashentseva

Tambov Oblast

Tambov Oblast

Author: Designer at advertising agency, ART-Master Sergey Vladimirovich Rudakov

Tver Oblast

Tver Oblast

Authors: Teacher at A. G. Venitsianov Tver Art College Larisa Igoryevna Filina Third year student at A. G. Venitsianov Tver Art College Dmitriy Vladimirovich Ignatyev

Tomsk Oblast

Tomsk Oblast

Author: Tomsk State University Sergey Avdeev

Tula Oblast

Tula Oblast

Author: Oxana Anatolyevna Bragina

Tyumen Oblast

Tyumen Oblast

Author: Second year student at Tyumen State University of Architecture and Civil Engineering Irina Kran

Udmurt Republic

Udmurt Republic

Authors: Distinguished Cultural Professional of Udmurt Republic, tutor at Children's Art School No. 69, Votkinsk Yakov Viktorovich Kozlov Graphic designer Yekaterina Andreevna Lokteva

Ulyanovsk Oblast

Ulyanovsk Oblast

Author: Natalya Valeryevna Sabanova

Khabarovsk Krai

Khabarovsk Krai

Author: Vladimir Valentinovich Guyenok

Khanty-Mansi Autonomous Okrug – Yugra

Khanty-Mansi Autonomous Okrug – Yugra

Author: Folk artist Mikhail Loparev

Chelyabinsk Oblast

Chelyabinsk Oblast

Author: Print designer at Spektr-Print Pavel Granov

Chechen Republic

Chechen Republic

Author: Alik Amkhadovich Tantalashev

Chuvash Republic

Chuvash Republic

Author: Distinguished Artist of Chuvash Anatoliy Vasilyevich Danilov

Chukotka Autonomous Okrug

Chukotka Autonomous Okrug

Authors: Igor Vasnev, Angelika Kozlova

Yamalo-Nenets Autonomous Okrug

Yamalo-Nenets Autonomous Okrug

Author: Tutor at Children's Art School No. 2, Gubkinskiy Alexander Viktorovich Bibik

Yaroslavl Oblast

Yaroslavl Oblast

Author: Retired police lieutenant colonel, formerly of the Department of the State Automobile Inspectorate for Yaroslavl Oblast Sergey Vladimirovich Kiryashin
ORGANIZERS
| | | |
| --- | --- | --- |
| It is for 75 year running that theGeneral Department of Road Traffic Safety of the Ministry of Internal Affairs of Russian Federation has been involved into serious activity to prevent motor vehicle accidents (MVA). There are numerous programs underway to decrease MVA statistics, to improve driver training and behavioral response for all road traffic participants. Conducting social campaigns aimed at teenagers and children the State Traffic Police is investing into the safe driving in the future. | The Russian Association of Motor Insurers (RAMI) is a non-government organization involved in obligatory insuring liability of the owners of motor vehicles. RCIU was founded August 8, 2002 by the 48 largest insuring companies in Russia; the union was officially registered dated October 14, 2002; in fact the union is the first professional union on the insurance market having the status confirmed by the effective Russian legislation. RCIU is permanently involved in initiating campaigns to improve the road traffic situation actively promoting the importance of increasing the safety status of not only drivers but passengers as well. | Non-governmental organisation "Road Safety Russia"unites all who is not willing to stay passive on the issue of extremely high risk associated with driving Russian roads. We unite those who values their lives and who cares about the lives of their close relatives. Those whose potential loss will be always remembered. We stay united to decrease the deadly toll in our roads. We want people to follow the road traffic rules because their children are following their role models. We advocate the polite conduct as living a life charged with positive emotions is great fun. We want you to drive safely! |
PARTNERS